Play enough Super Mario World and you'll eventually make your way to the Special area where eight fairly tough levels with kind of silly names await you.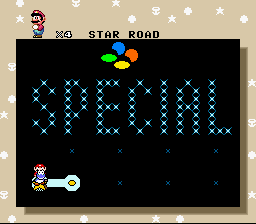 But if you sit at the map screen long enough, for several minutes, you might notice the music changes to something that sounds oddly familiar, the theme from the first game!
Don't have access to a save file close enough to the Special area? Or don't have a Super NES within arm's length? That's OK, I've prepared a sample for you right here in mp3 form.