Hatris is one of those games made by the guy that made Tetris in what I assume was an effort to recapture the magic that Tetris had. But it wasn't really that good.
But, I suppose that some people like sorting hats that fall from the heavens, so this tip is for them.
If the hats don't quite fall fast enough to give you a proper challenge, you could go to the title screen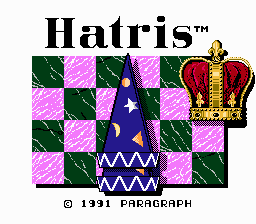 And hold Down on the control pad and press Start.
Done right, when you start the game, you'll see the word 'TURBO' down in the bottom-right portion of the screen
Forcing you to be on top of your hat-sorting game.